Funniest And Adorable Halloween Costumes For Cats
Cats are always fun to be around when they are not scratching you or causing mayhem in the household.  And they are more adorable when they rock fantastic Halloween costumes. Today, we have gathered some of the most WTF Halloween costumes for cats. Some of these Halloween attires are so cute they will put a smile on your face, while the rest will make you laugh till your belly aches. And even if you don't love cats, you'll enjoy watching these.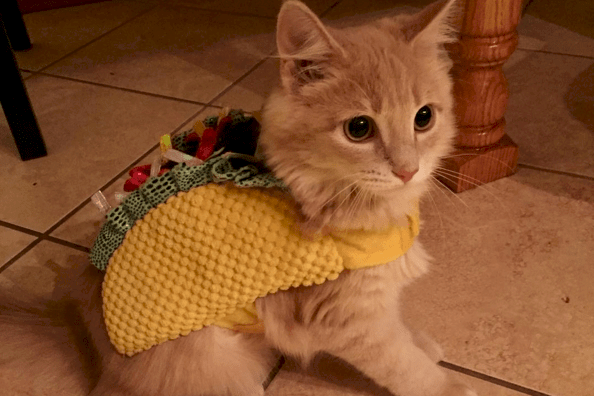 Graduate Cat
Surviving through college can take a toll on you. You get to scale through mountains of tasks and assignments. And from the look of things, Graduate Cat is coming to the realization that life after college is a mess. How is he going to pay the massive amount of debt without a job? Time to go fishing or squirrel hunting. At least, that profession doesn't require a degree and prior employment experience. Or does it?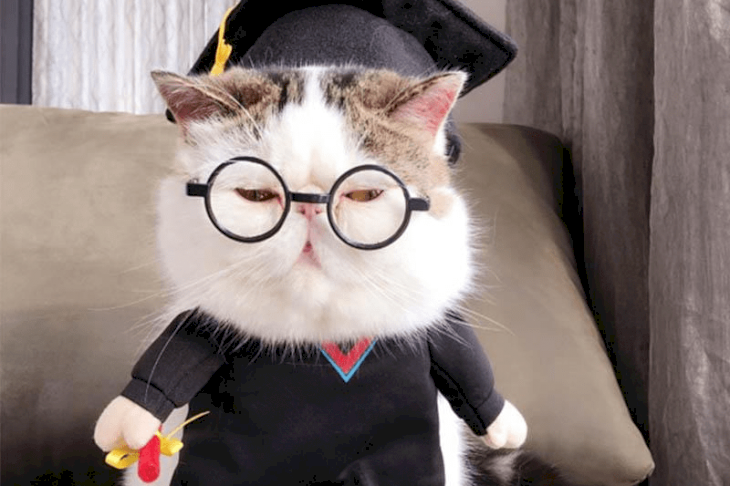 BatCat — The Hero of Catham
BatCat fits the bill of a protector, with the imposing stance and the thousand-yard stare. This town needs a hero. Step aside, James Gordon. Here comes BatCat to save the day once again. This cute four-pawed hero is definitely on the lookout for trouble in that suit and cape. If any treats go missing on Halloween, BatCat will definitely find the miscreants and bring them to justice. The only item missing from the ensemble is the Catmobile.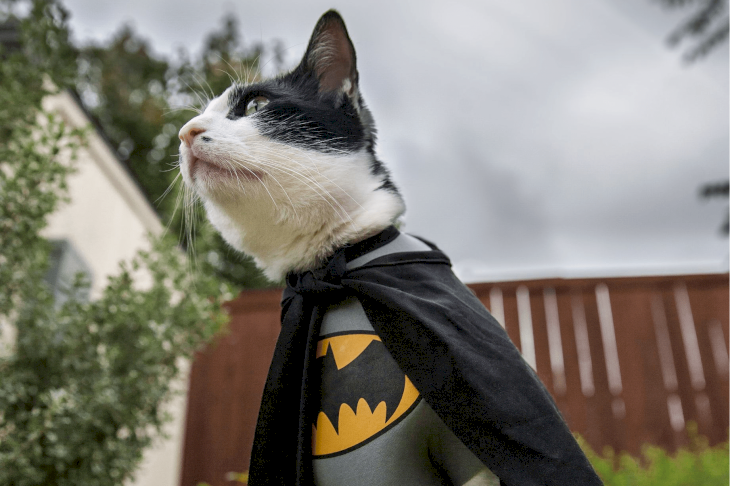 Morris the Purrrisoner
Some milk bars are missing from the basket. We have a criminal in our midst. But this investigation should not take long because it is not every day you see a cat that actually 'fits the description' perfectly. Morris' demeanor in this photo is that of an unimpressed prisoner in a quite familiar environment. All thanks to the Purr patrol, one of the miscreants has finally been caught, and it is Morris, the scruffy trickster. Tough luck, Morris!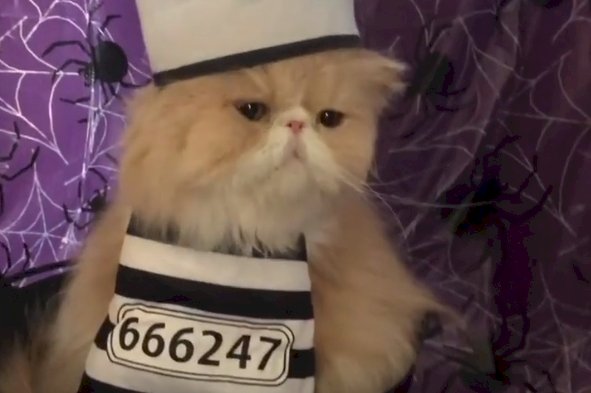 "You Know When the Catline Bling..."
Humans can dress up as their favorite popstars on Halloween. But nobody did it better than this cat right here. Meet Drake the Cat, a Grammy-award winning singer — a legend of the craft. Apparently, he is disappointed that you only call his cell 'late at night when you need his love.' Come on now! Hit Drake on the catline and talk things over. And bring a treat with a bowl of warm milk.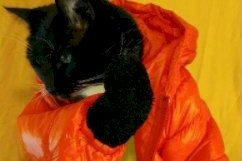 DragonPaws Z
Goku is a safe go-to when planning a Halloween outfit. But coming up with a miniature outfit might prove a more challenging task. Don't let those adorable eyes fool you. This cat is about to go 'Super Saiyan' on everybody. Check out those fluffy paws and cute orange outfit. The cardboard cut of Goku's hair is also spot on. And oh, it looks like this cat has got one of the Dragon Balls. We'll have to keep an eye on this one.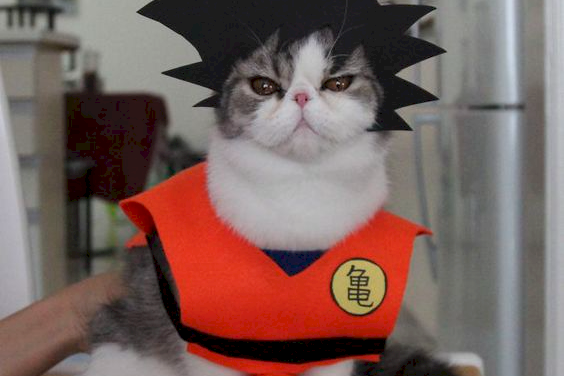 Walter Bishop in the New Episcocat
Nuns and other members of the clergy are popular Halloween outfit choices. This cat takes the game to a new level with an ambiguous costume that looks like a nun and an Orthodox patriarch at the same time. This absolute darling is one of three cats that star on the @walterbishopthecat Instagram page. Good news, everyone! The archdiocese has a new EpiscoCat, and their leader is Walter Bishop. Truth be told, I think Walter is trying to disguise himself as a nun in this picture. Nice try, Walter.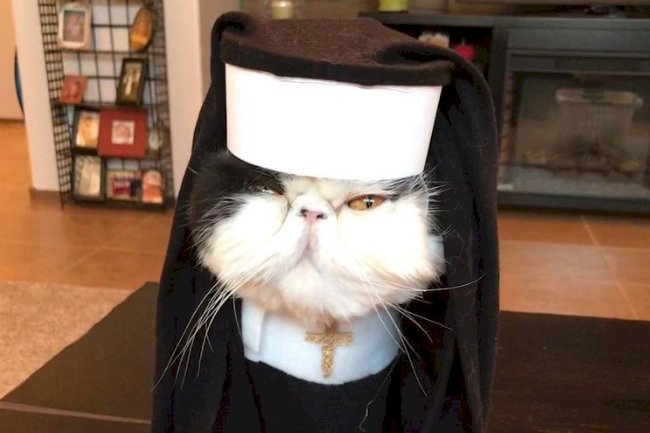 Rastacat Wants To Give You a Bit of Flava
Just admit it; nothing beats the sight of a RastaCat rocking a Rastacap, adorned with dreads and a jacket to match. Don't know about you, but this cat definitely knows a thing or two about reggae and dancehall music. And the adorable, piercing dark-blue eyes will make you give praise to JAH.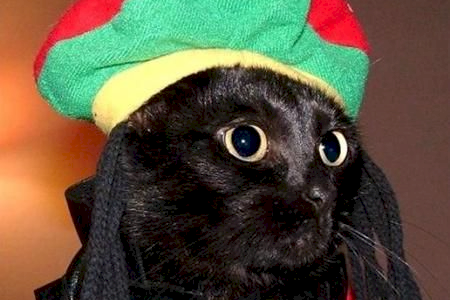 This Catstronaut Just Pressed the Wrong Button
First, the aliens tried to take over the world. Now, we have to worry about our four-legged feline sweethearts. This catstronaut over here is trying to master space exploration. But wait a minute; that seems to be the wrong button. Even without any expert experience, pressing that red-button will end in a massive CATastrophe. And you can't blame the poor thing; it is quite challenging to see through that opaque helmet. Humans are still ahead...for now. But wait until the cats gain access to better tech.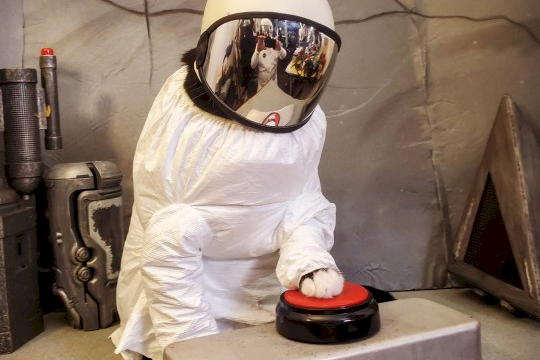 Mcpaws Is Ready for Happy Meal
Have you ever seen a kitty cuter than this? This lovely kitten is ready for its happy meal in that yellow bib (or is that a McDonald's shirt?). At the same time, the kitten resembles a rooster with the red comb-like thing. Anyway, how long till the nuggets are ready, human?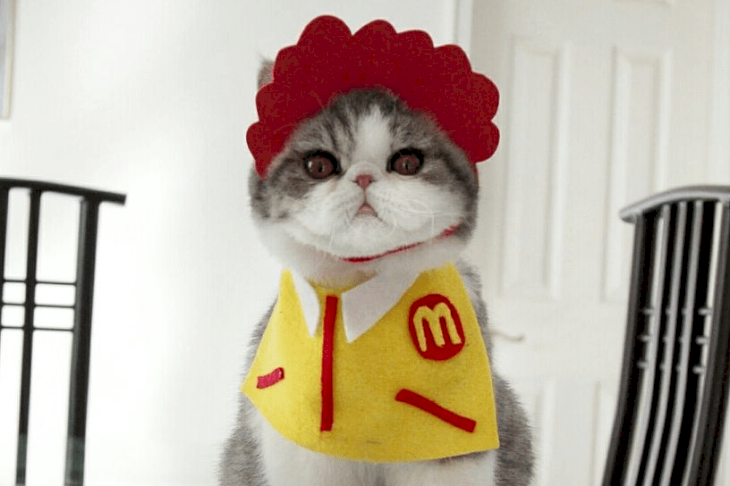 "Do You Wanna Ride on My Harley?"
Dressing up as a biker for Halloween is always a huge risk. You could run into a gang and would have to explain why you are in their attire. But this Biker Gang Cat is not fazed by all that. He definitely looks the part — aviator goggles, a cool hat, a jacket with raised collars, and a 'beard' to cap it off. Sorry mum, but I am joining this bright-eyed cutie's gang right away.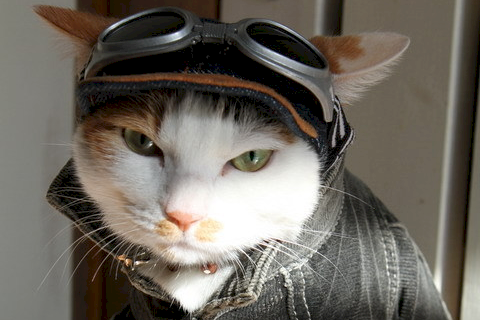 "Over Yonder, a Barrel of Milk Awaits."
The golden era of piracy might be over, but you can still pay homage to these greats from the old tales. Poor old Captain Hook has been through the wringer. That pose depicts the image of a worn-out pirate, weary from the brutal high seas of the New World. Water has a way of taking a toll on you, doesn't it? The akimbo pose is a testament to the years of bone-crushing battles with the dogs of the navy. Even the hook is now crooked. He'd surely give anything for a jug of milk right now!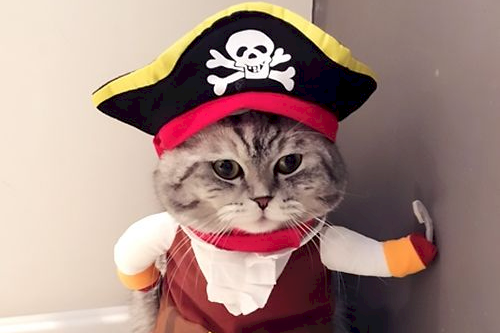 "Did You Order a Package From Catexpress?"
Only a couple of cute cats can take a regular UPS and USPS outfit and turn it into something cool. Here, before you, stand the picture-purrfect poster paws of the CatExpress. Need a package delivered on time? Eric and Ollie have got you covered. They are essential workers delivering treats to homes nationwide. At least, these delivery cats actually handle your package with the care it deserves.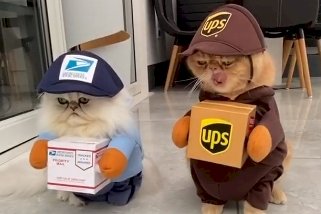 "It's SpiderCat!"
Everyone loves a superhero, especially the ones pretending to hold regular jobs. But this SpiderCat right here is taking a break from the superhero thing for some time. Really tho, controlling that web shooter all day and leaping from shelf to shelf can take a toll on the paws. And the mask hinders SpiderCat's vision.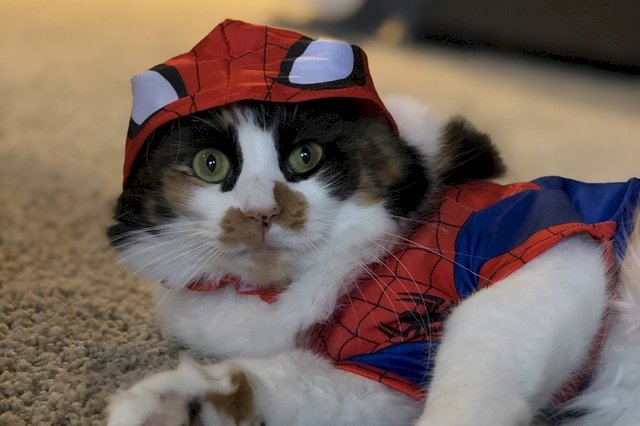 "Why Are There So Many Eyes on My Tail?"
Dressing your cat as a peacock for Halloween seems a funny idea. But watching the cat struggle to figure out what happened to its tail is even funnier. This cat looks perplexed, and your laughter is not providing any useful solutions to this dilemma. Just know that once your cat rocks this costume, you will get that darting stare in your direction.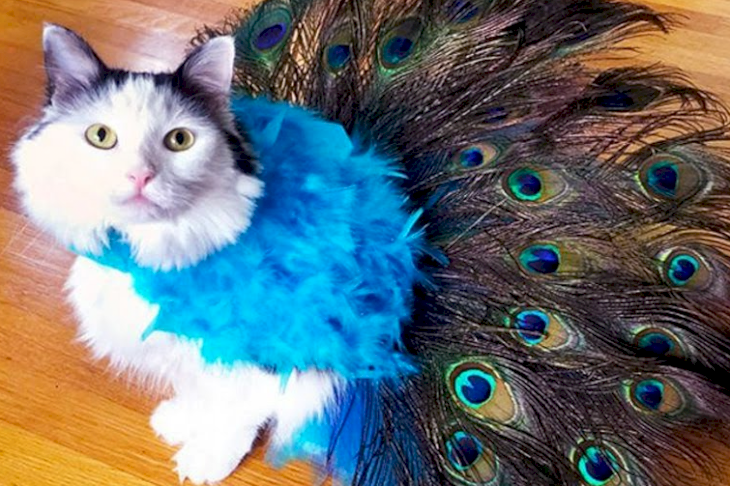 "Stop Right There, Human!"
While BatCat is on leave, let's meet the new head of Purr Patrol. Officer Miau is the new sheriff in town, and y'all better act right. This cat means business, and no rat races will be tolerated. Get your house in order, human! 
Minion Cats at Your Service
Minions always make great Halloween costumes, but these photogenic cats take it to another level. The ones in front seem to have completed the transformation into evil minions. But the cat in the background is not in the mood for all the shenanigans. This excellent costume idea is perfect for cats on Halloween. And for those with multiple cats, this outfit idea is just the right go-to.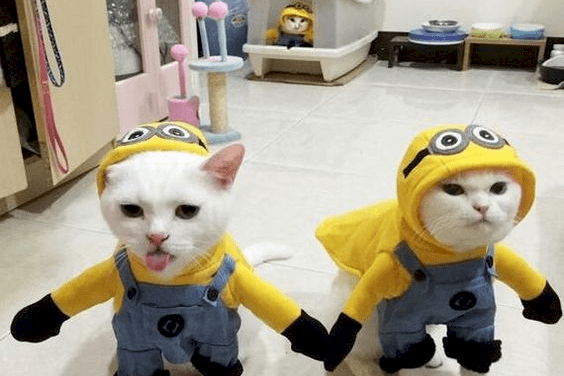 A$AP Paws the Fashionista
It is not every day you meet someone flyer than A$AP Mobsters. But today, a cat has finally outdone this flashy crew. Ladies and gentlemen, we hereby announce the newest addition to the A$AP Mob — A$AP Paws. This cat has more 'sauce' than you. Look at the Off-white overalls, the shades, and the gold chain. That's what we call a fashion killa. Virgil obviously had something to do with this.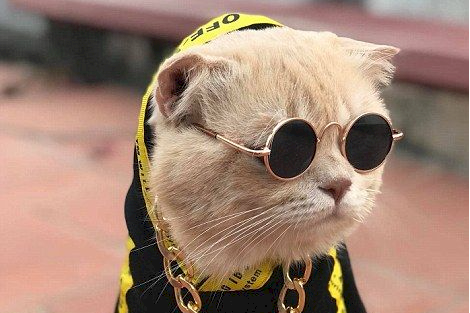 "Oh, I feel like crab!"
Who even thought that dressing a cat in a crab costume is a cool idea? At least, we all had a good laugh off it. In conjunction with the poor cat's confused facial expression, the costume itself is enough to make you lose your mind. And the fact that the poor thing is in a pot...oh dear, it doesn't get better than this. Let's just hope someone doesn't turn on the burners mistakenly. Crabs...sorry, cats don't belong in the barrel. They never told you that, Susan?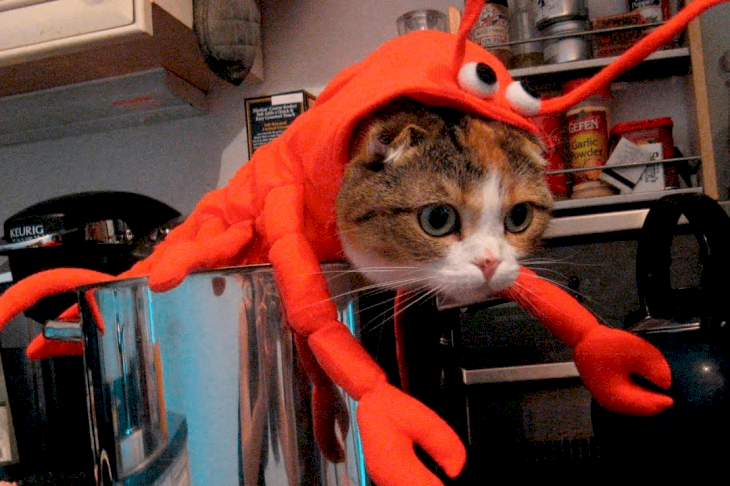 Pizza Cat Is Not Happy With This Particular Topping
When this cat asked for a slice of pizza with his favorite topping, he never expected this surprise. Just look at the poor thing trying to figure out what happened to the slice of pizza and why your friends are laughing with their phones out. Don't worry; PizzaCat will get its revenge. Hide your fish, hide your milk.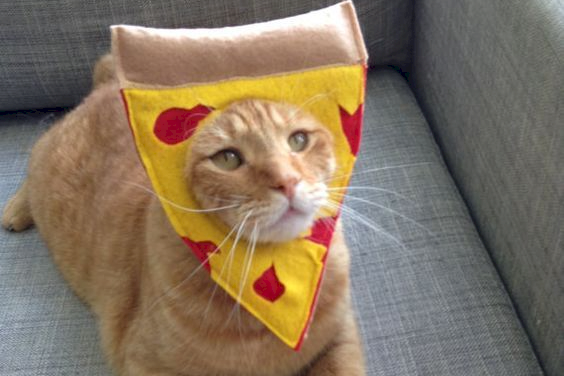 Dj Dollar Bill Cat from Hot 97 
He's got the swag; he's got the purr; he has the paw game to spin the best records — he is Dj Dollar Bill Cat. Here is another cat that's in tune with the culture. You just can't stop staring at the hat pointing off to the side. The only problem is that the chain will weigh heavy and become a nuisance pretty soon. Other than that, Dollar Bill Cat is ready to bring you the best jams from the Catosphere.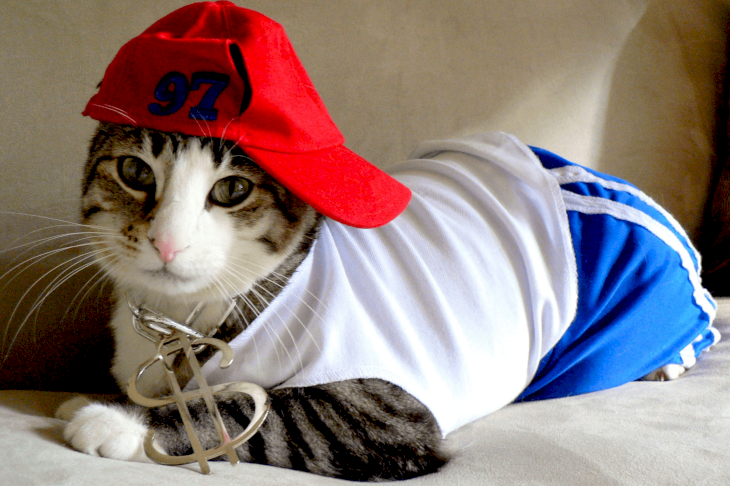 "If Only You'd Put on a Mask, Katie."
Nurse and doctor costumes are overplayed, right? Wrong! Wait till you set your eyes on this enchanting cat in his neatly pressed attire. Dr. Amado seems quite shocked at your refusal to put on a mask. Now, you are in the company of friends, coughing your lungs out. Put a smile on Dr. Amado's face by wearing a mask in public.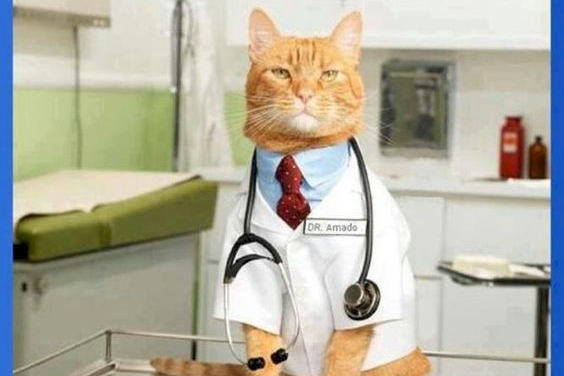 "I am the Feline Purrgasus!"
Animals are always easier to transform into their four-legged neighbors. But combining a unicorn and a pegasus seems out of this world. This cat would have looked cute without that...thing on its forehead. Now, the poor animal has turned into an object of our amusement.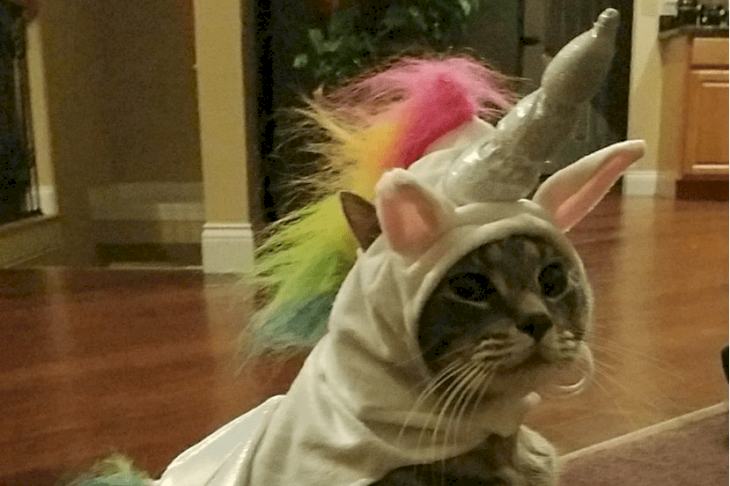 "Hey, Purrrtner! Wanna Hear this Jam I Wrote?"
Imagine walking down the street just to see a cat busking. People would pay millions to see this spectacle. And this feline cutie over here comes close to pulling this off. You can't take your eyes off the miniature guitar and the tiny hat. If that guitar mistakenly rings off a cat tune, that will add so many smiles to faces.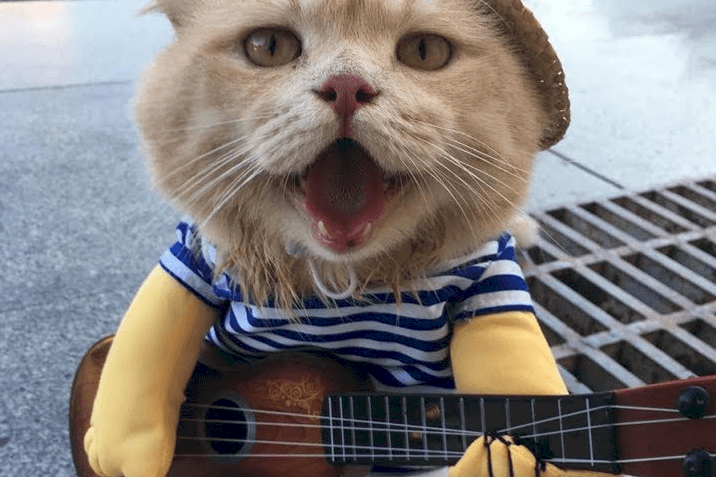 A Really Menacing Snow White
If Snow White looked anything like this, it is doubtful that the dwarves would have messed with her. Although everything on this cat is miniature and fitting, the look on its face is frightening and amusing at the same time. It is no secret that the cat disapproves of this particular outfit.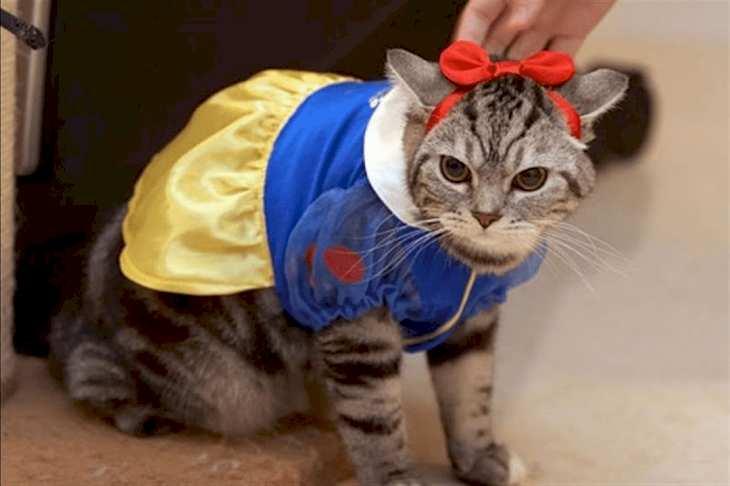 "Sushi comes from fish, Susan!"
Getting a cat to lay still while you put on a costume is a challenging task. And when they eventually oblige, you do this?? Okay, it is either the human makes terrible sushi, or they missed something in translation. By the look of things, it seems the cat wanted some sushi as a Halloween treat. Safe to assume that Susan misinterpreted this request to mean that the poor cat wanted to go trick-or-treating as a sushi roll. Well, no one is going anywhere in that attire anytime soon.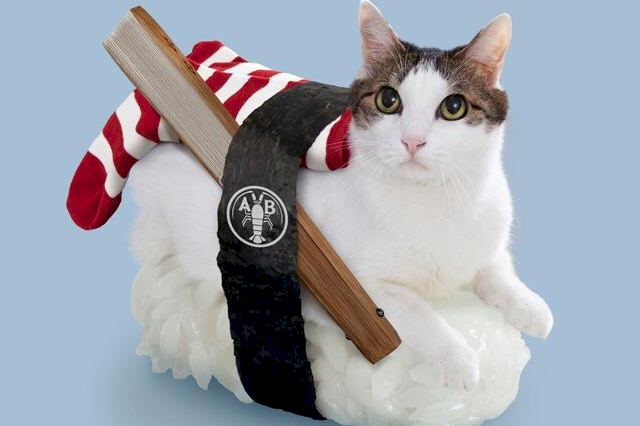 Asian Grandma Cat
This picture will get you rolling on the floor with laughter. How could a cat pull off the angry babushka and Asian grandma in one look? Just look at the inquisition in its eyes and the trademark standoffish granny pose. It goes without saying that messing with this no-nonsense kitty will earn you a few scratches.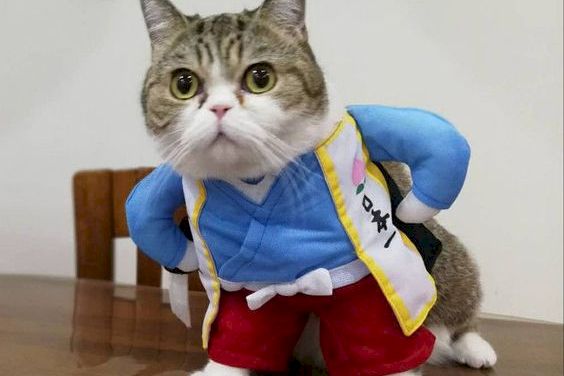 Lil Kitty
Rainbow shades and gold chains don't work on everybody. But Lil Kitty doesn't have a worry in the world. Does your cat even have a Supreme hoodie? No question, this cat has a lot of swag and is not afraid to stunt on you peasants. And yes, Lil Kitty is pointing at you. Got a problem with that?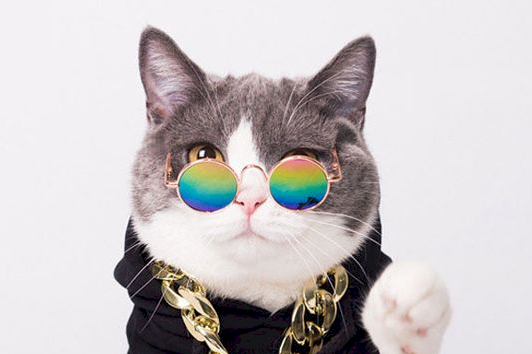 Cat in the Hat
Okay, this is simply an alley-oop close to the rim. The name is there; all you need is the outfit. Even those unfamiliar with the Dr.Seuss classic book will guess the title of this costume because it is...a cat in a hat. All you need is a miniature hat and a bowtie to match, and you are all set.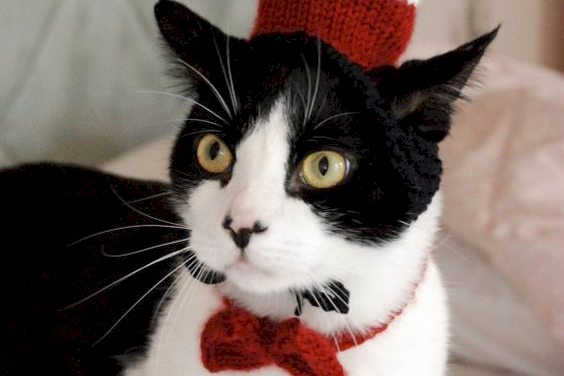 Wizard of Pawz
Step aside Dumbledore and Gandalf, the Wizard of Pawz is here to bring the magic to earth. This cat definitely knows a trick or two. And the ears poking out of the wizard hat look so cool. If a rabbit comes out of that hat, then we have a winner for the best costume.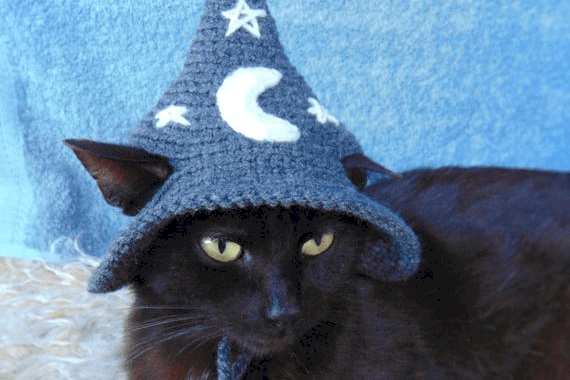 Tacocat
Food costumes always make great Halloween outfits. Looking at this Tacocat will not only put a smile on your face but also make you hungry. The little kitty looks quite yummy in the costume. Wonder if the taco is vegan or carnivore. Our guess is carnivore...
Sailor Cat
Sailing is a noble profession and one of the oldest. Seacat looks focused and down-to-business in this sparkling outfit. He is ready to travel the rough seas and take on all challengers. But one obstacle stands in his way — the fear of water!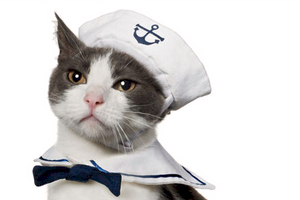 "Care for some honey?"
This cat has the right costume to embark on Operation Honeycomb. Just take a look at this elegant beauty, buzzing to get some honey. Hope she doesn't mess around with a beehive. Time to take some notes on protective gear from her.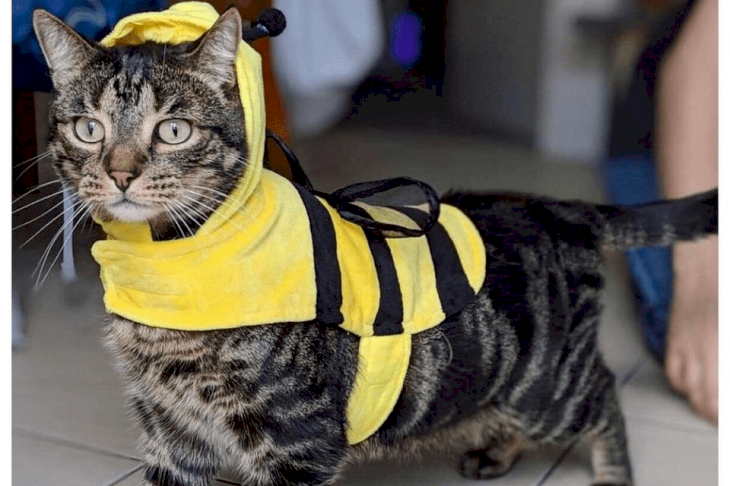 T-Rex Cat
If you thought dinosaurs were extinct, this dinosaur cat would make you rethink. Jurassic Park is back, and T-Rex Cat is leading the revolution. But the sadness in his eyes means that the revolution is not going as planned. Let's hope for a quick turn in fortunes.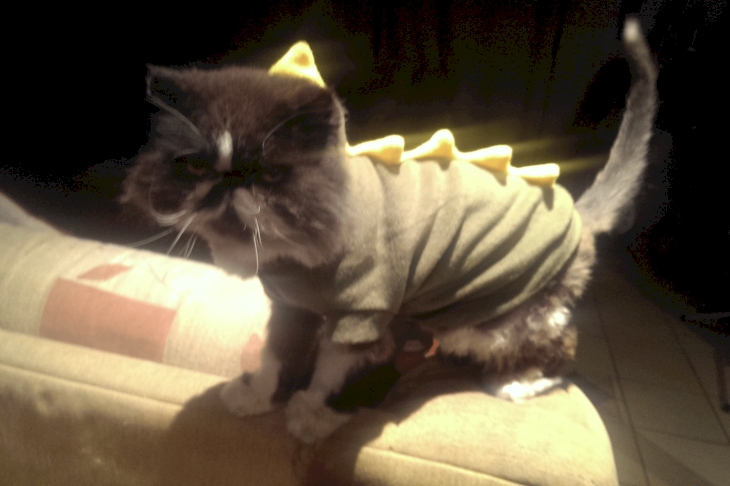 Chef Whiskas at Your Service
It is hard to say if this cat is shocked at your order or the costume. Are you interested in a tuna casserole, or do you prefer sushi? Place your order and let Chef Whiskas perform his magic. Doesn't matter if you are vegan or not, Whiskas has got you covered.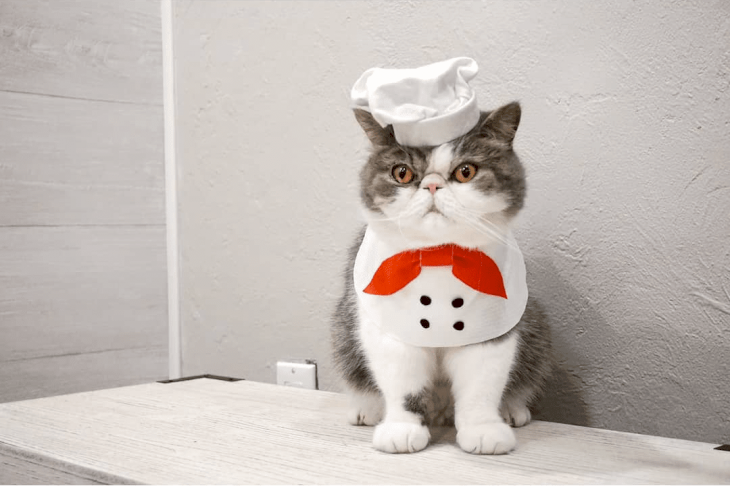 Felina the Ranger
The Wild West needs a new hero and here comes Felina to the rescue. She is the sexiest gunslinger in the West. She is fast; she is strong; she is better than the rest. When in danger, call Felina the Ranger. Just leave your payments ready in a milk jar.
Showtime Kitties
The Lakers have just made a trade and the future looks purple and yellow. So, step aside, Toronto. LA has the best basketball duo in the world. These photogenic cuties are adorable and ready to embrace the new era of Showtime.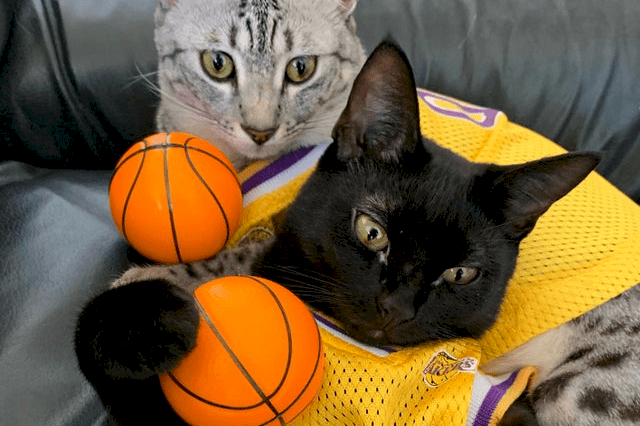 Princess Jasmine
Who would have thought that the Aladdin theme would look cool on a cat? But Jasmine hit it out of the park. She looks tired of her palace responsibilities in Catgrabah. Let's hope Catlladin quits running after squirrels and swoops in on his carpet to pick up Jasmine.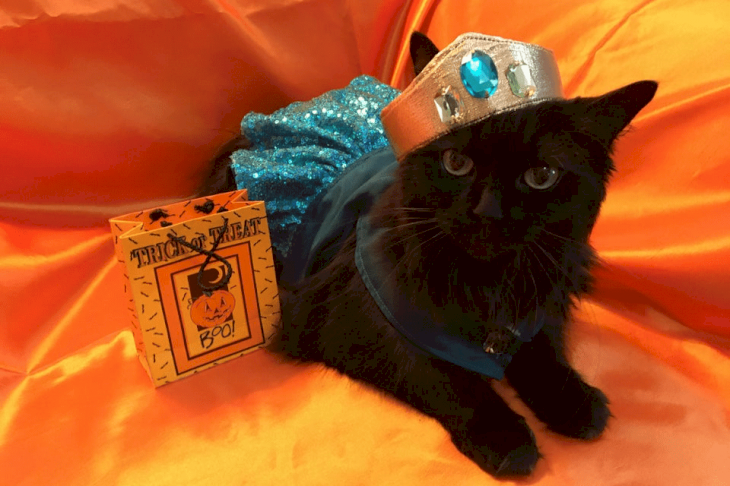 A Cat With Big Dreams
There is something about this cat that spells 'big cat.' Maybe it is the piercing gaze, or it is just the scruffy mane. Either way, this cat definitely believes the animal kingdom is his birthright. And his determined look shows that nothing can stop him on his quest.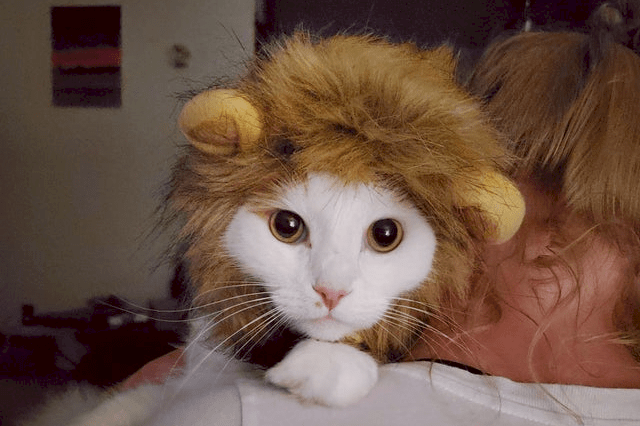 "It's a paw...It's a Cat...It's SuperCat!"
Dressing up humans in Superman costumes is a Halloween mainstay. But only an elegant cat like this once can pull it off. One thing is sure; the city is safe as long as the milk bowl stays filled. Call on Supercat once you see a villain on the loose.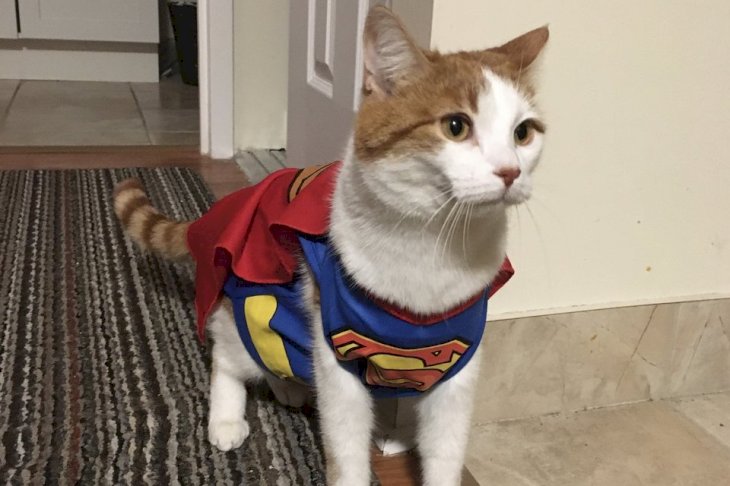 Wonder Woman Cat
Okay, you've got to admit that this Wonder woman Cat just won the prize for the best Halloween outfit. Take a moment to marvel at this elegant Amazon queen. Look at the pose, the poise, and the focus. Can someone get her a shield and spear right away?!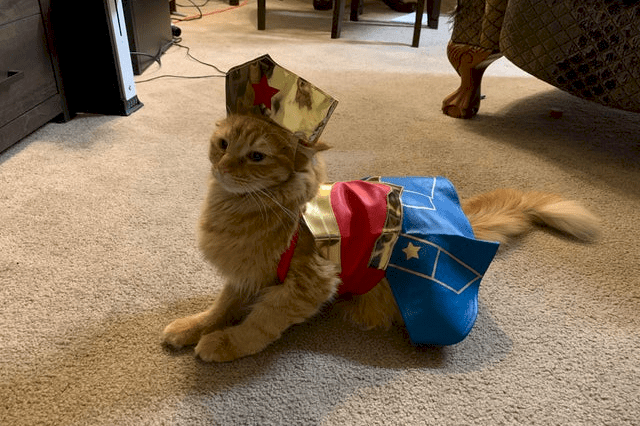 "Call Me Octopuss"
Going after fish after months of living on dry land can be tough. This cat just wanted the fish but ended up turning into an Octopuss. But he can take some positives from this dilemma. Now, Octopus has more mobility since he just gained 8 extra legs.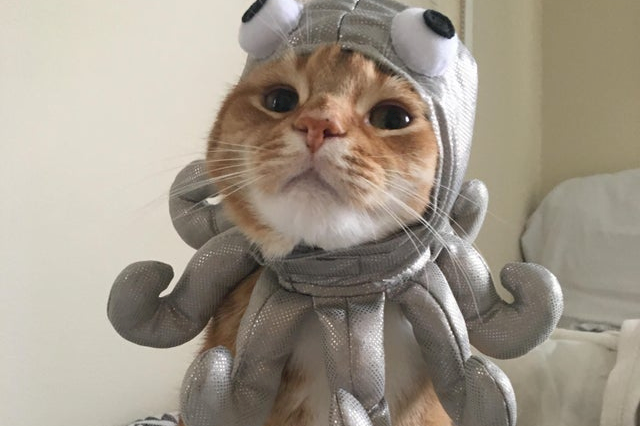 "Tonight, We Dine in Valhalla!"
It is time to end the British dominance over Europa. The Viking nation is sending its milk-thirsty armada to the shores of England. Ragnar Purrson is determined to defeat the English or end up in Valhalla. How can't you fall in love with the dragon boat, the Viking hat, and the orange beard?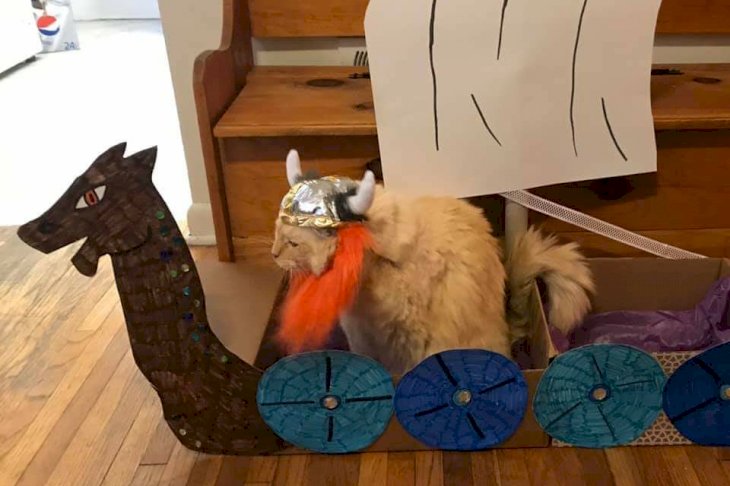 "Funny it isn't"
This cat seems so disappointed about Anakin's move to the Dark Side, and he is ready to take revenge on humans. Master Yoda seems unimpressed with your jokes and your corny one-liners. Look at those whiskers and the silk gown. You can't help but fall in love with Yoda Cat!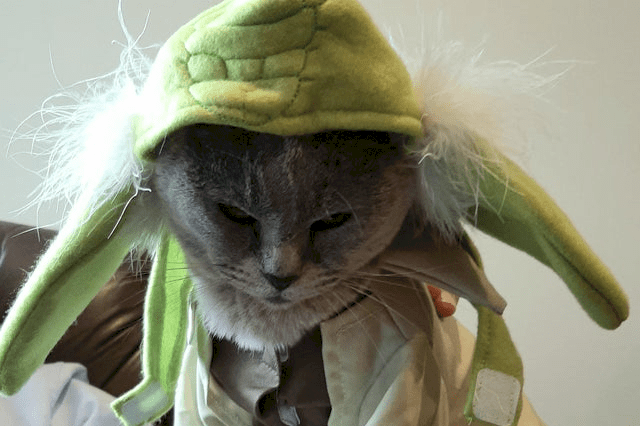 "What's Really in the Bottle, Kai?"
A cow costume with a bottle of milk an impressive Halloween costume idea. And convincing your cat to dress like a cow is an excellent idea until they find out they can't produce their own milk. Better hurry and open that bottle of milk before things start to get scratchy.
"How about a HotCat?"
Food costumes always look hilarious on animals. HotCat is bringing you the latest and trendiest recipe. Why eat a hotdog when you have this succulent looking cookie out here? HotCat is the wavy thing in town. Your belly starts rumbling just by looking at this yummy cat.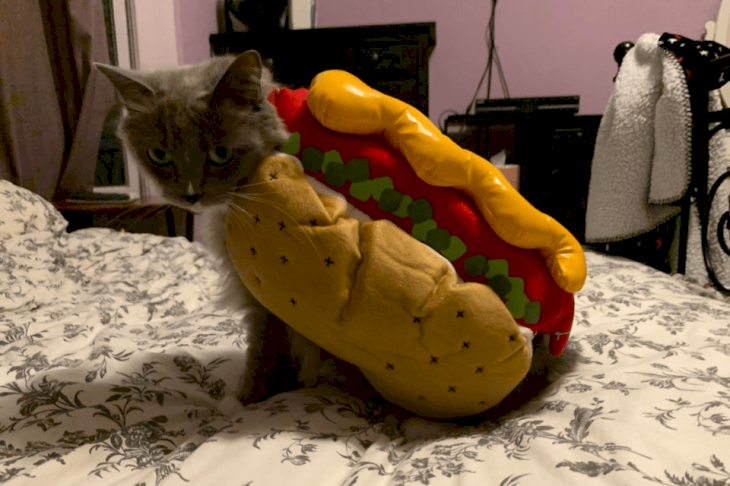 Sameowrai Cat
Paying homage to the Samurai tradition is not all about the costume. You must stay dedicated to the cause at all times. This cat is in full regalia and looks ready for all the smoke lurking behind that door. Just give it a mini sword and watch as it terrorizes the rodent renegades!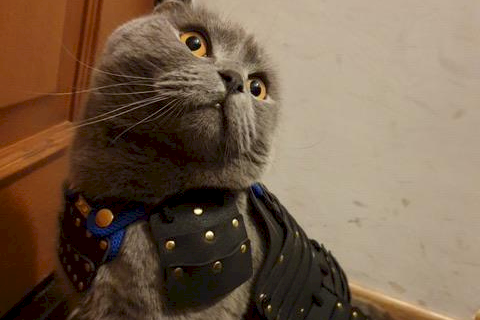 These costumes are so creative and hilarious that they make us go 'aww' or 'Lol.' Which of these costumes caught your attention and made you laugh out loud? Spread the joy by sharing these hilarious images with your friends and colleagues.