Apple Pies: Unusual Ingredients and Tips
Anyone who has too many apples sitting on their kitchen table right now might have this dessert on their mind - Apple Pies! This is everyone's go-to classic dessert, especially in the Fall season. But did you know that there are a lot of ingredients that might give this pie a whole new twist? Continue reading to find out more!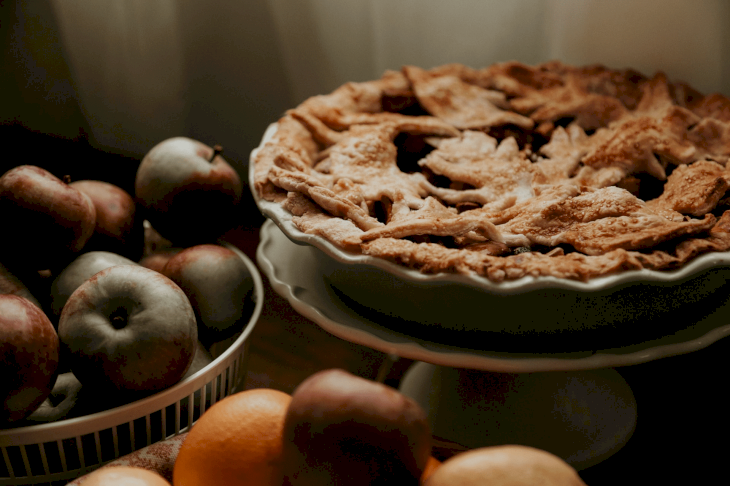 ---
WHAT IS A CLASSIC APPLE PIE RECIPE?
Ingredients: 3 tablespoons flour, Pate Brisee for Pear and Tart-Cherry Pie, 1 large egg yolk, a tablespoon heavy cream, 3 pounds assorted apples, cut into 1/4-inch-thick slices, 2 tablespoons freshly squeezed lemon juice, 1/4 cup sugar, 1 teaspoon cinnamon, 1/4 teaspoon nutmeg, 1/8 teaspoon salt, 1 tablespoon butter, cut into small pieces and add sugar, for sprinkling.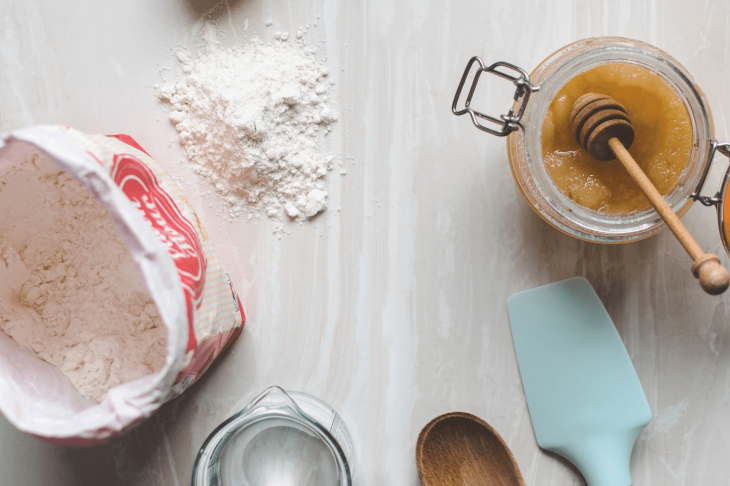 ---
DIRECTIONS - STEP 1
On a lightly floured work surface, roll out one disc into a 13-inch round about 1/8 inch thick. Fit dough into a 9-inch pie plate. With a sharp paring knife, trim dough flushes with the rim. Freeze again until firm, at least 30 minutes.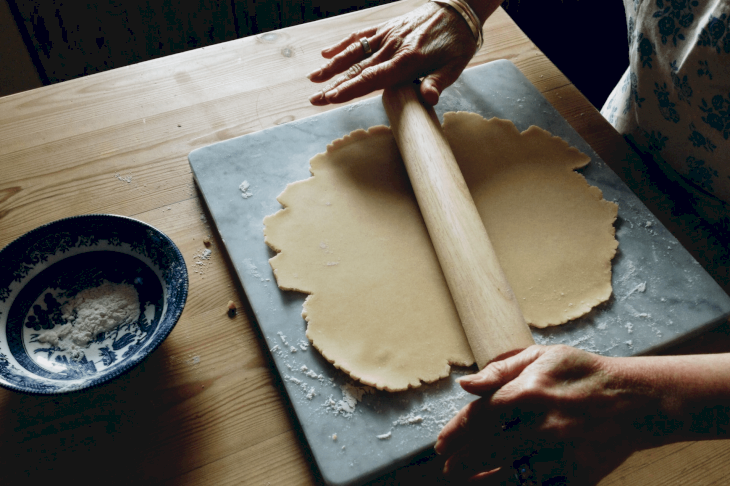 ---
STEP 2
Roll out the remaining 2 discs of pate brisee to about 1/8 inch thick. Place on a parchment-lined baking sheet, and freeze until firm, at least 30 minutes. Remove from the freezer; using a 2 1/4-inch leaf-shaped cutter, cut out about 65 leaves and place them in a single layer on the baking sheet. Place in refrigerator until firm.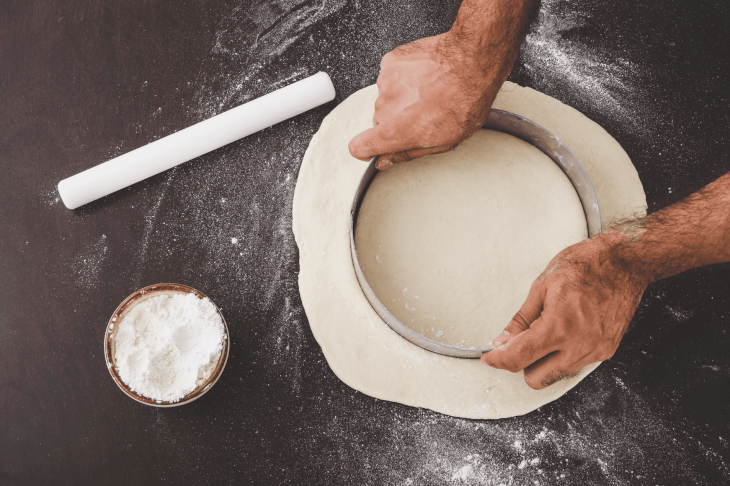 ---
STEP 3
Preheat oven to 400 degrees. In a small bowl, whisk together egg yolk and heavy cream; set aside. In a large bowl, toss the apples with the lemon juice, granulated sugar, flour, cinnamon, nutmeg, and salt. Remove the pie shell from the freezer, and fill with apple mixture. Dot with butter.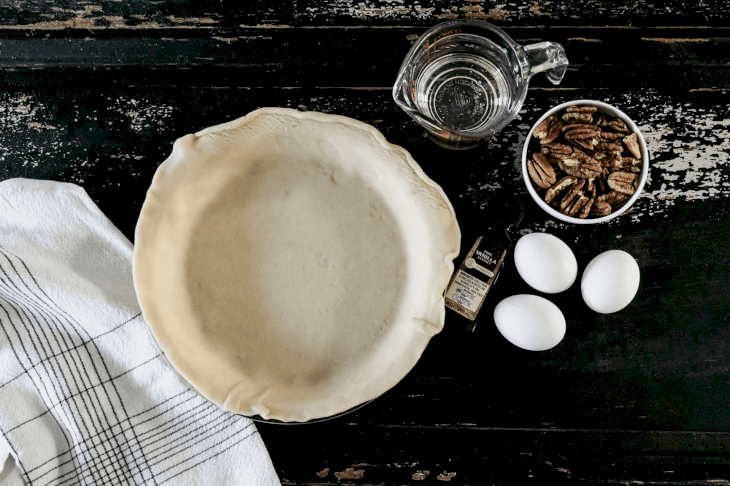 ---
STEP 4
Remove leaves from the refrigerator, and score with a paring knife to make veins. Lightly brush the edge of the pie shell with water. Brush the bottom of each leaf with water; beginning with the outside edge, arrange leaves in a slightly overlapping ring. Repeat to form another ring slightly overlapping the first. Continue until only a small circle of filling is left uncovered.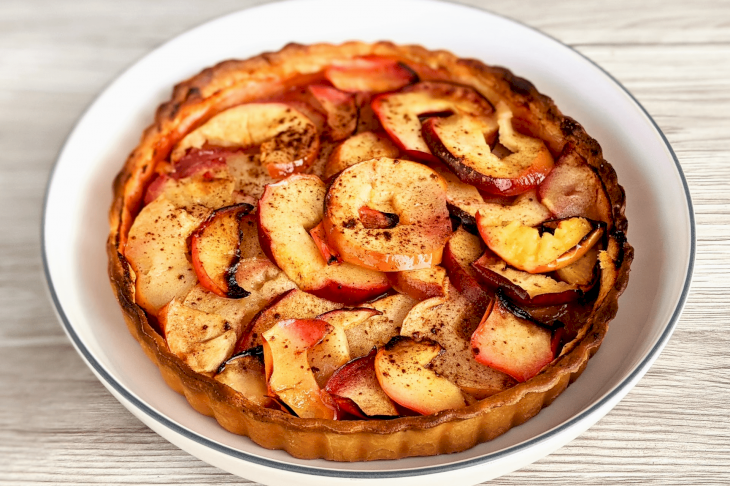 ---
STEP 5
Carefully brush the top of the leaves and pie edge with the reserved egg wash, and sprinkle generously with sanding sugar. Freeze or refrigerate until firm, at least 30 minutes.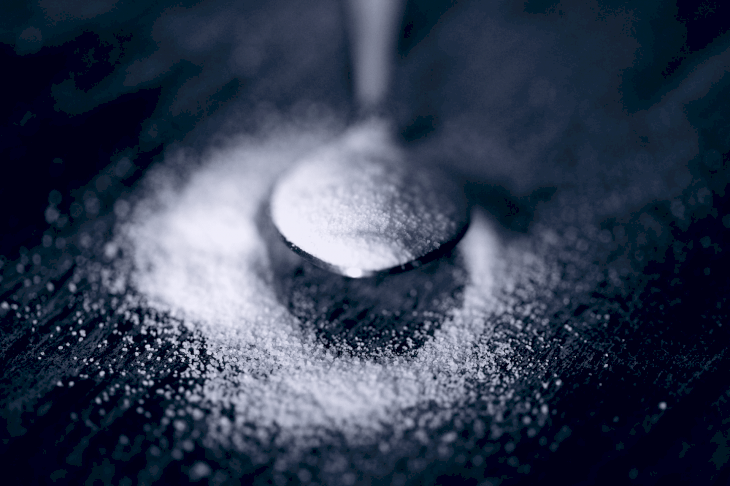 ---
STEP 6
Place the pie plate on a baking sheet, and bake until the crust just begins to brown about 20 minutes. Reduce oven temperature to 350 degrees and continue baking until crust is golden brown and juices are bubbling, 35 to 45 minutes. If the crust begins to get too dark, drape a piece of aluminum foil over the top. Transfer to a wire rack to cool. Enjoy!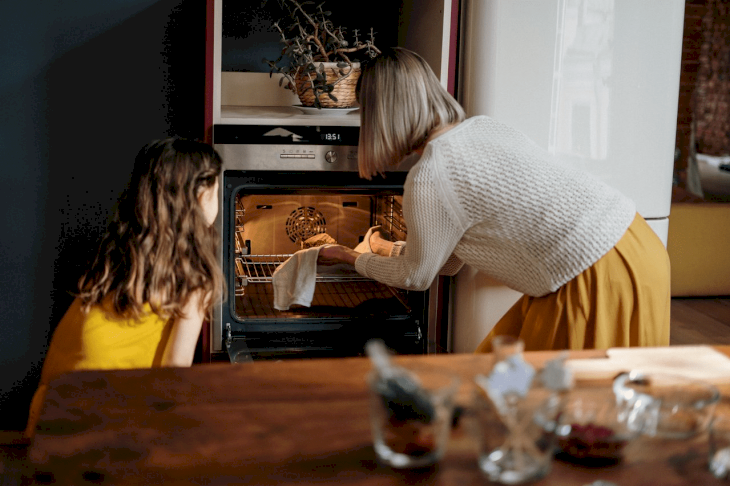 ---
A SECRET WEAPON: GINGER
If you already know about this one, then you are really an apple pie enthusiast! Aside from lemon juice, ginger zest can give your pie just the zing you will definitely love! Just peel the skin off and extract its pungent goodness! However, if you do not have fresh ginger, you can use 1/2 teaspoon of powdered ginger.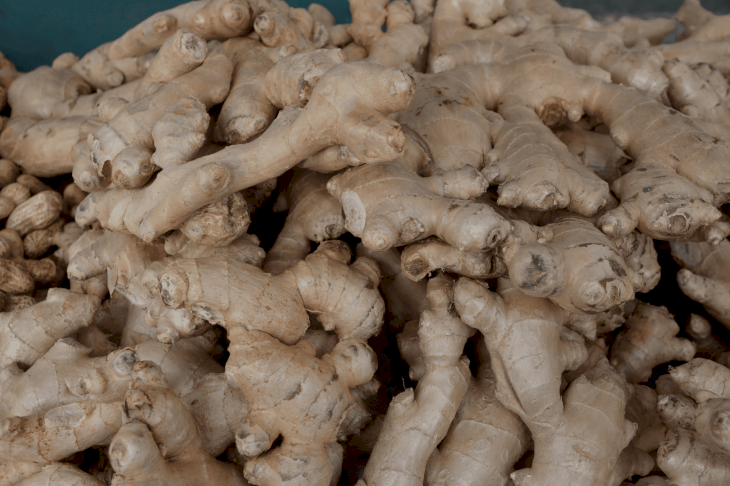 ---
The secret to having a perfectly balanced apple ginger pie is to have a little less sugar, more lemon juice, and of course, adding the fresh ginger! The touch of more acid will surely make you grab more slices and keep coming back for more as the day progresses.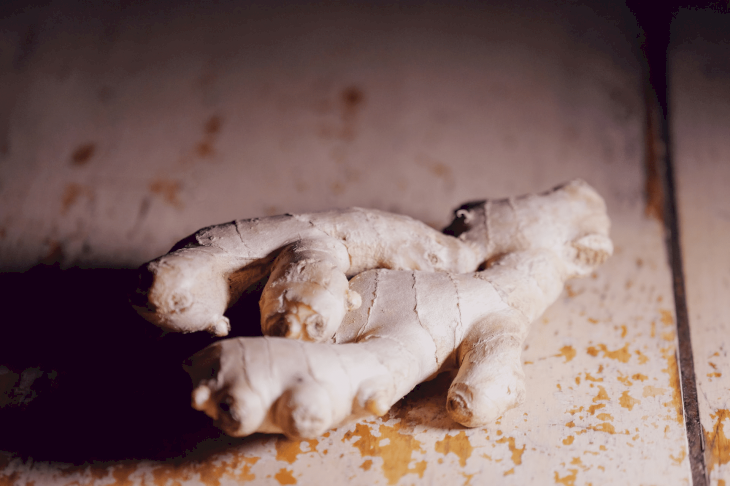 ---
CHEESE
Did you know that cheese can be a classic mate for apples? It's a bit unusual but the idea of eating warm apples with melting cheese can be mouth-watering! But where did this classic combination came from? It turns out that this so-called American tradition is actually rooted in New England, Pennsylvania, and the upper midwest, Atlas Obscura!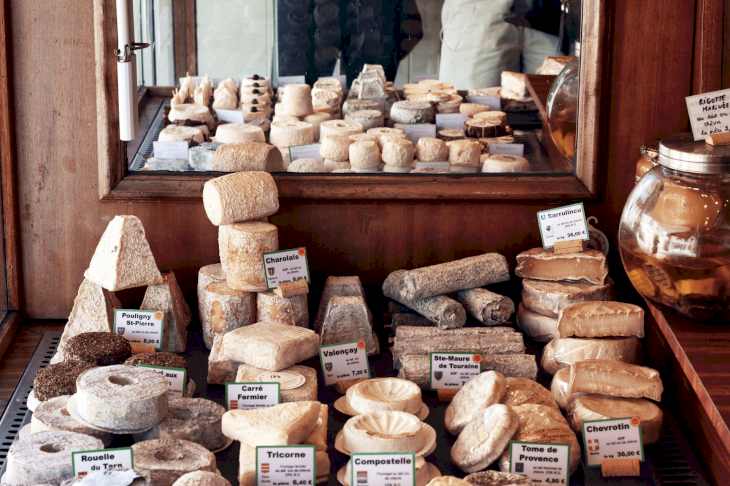 ---
New Englanders and Midwesterners lived by the phrase, "an apple pie without the cheese is like a kiss without a squeeze," which still lives today because cheese's saltiness can give your pie a contrasting flavor. You can keep it on the side or add a cold piece on each warm slice. Also, try baking the cheese into the crust directly.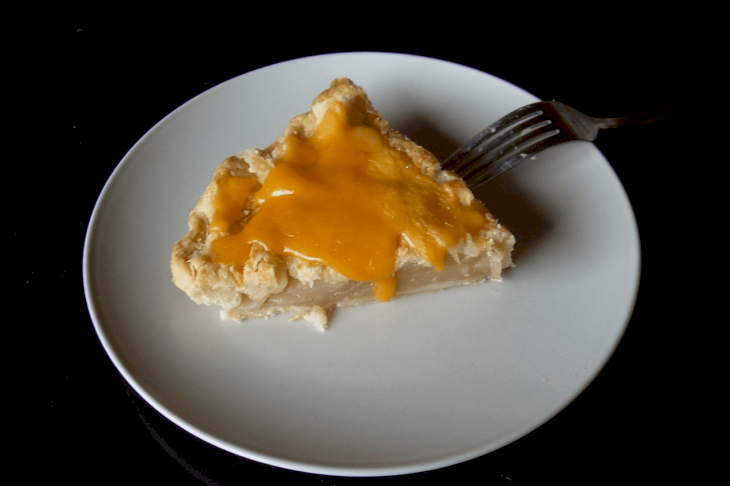 ---
FRUITS AND BERRIES (RAISINS, CRANBERRIES, CHERRIES, BLACKBERRY, BLUEBERRY, RASPBERRY)
If you want a decadent but totally guilt-free dessert, have fruits and berries to replace the sugar in your apple pie recipe! A bit of tartness from raisins, cranberries, cherries, blackberry, blueberry, raspberry can neutralize apple's sweetness. Now you don't have to worry about grabbing a slice or two!
---
VEGETABLE (ZUCCHINI, PUMPKIN)
Change the game in making apple pies by using raw and organic ingredients like vegetables! One example is zucchini which surprisingly tastes like an apple. Your family won't even notice that unless you tell them that it is zucchini. Also, try the Pumpkin Dutch Apple Pie recipe layered with crunchy apples and topped with creamy pumpkin.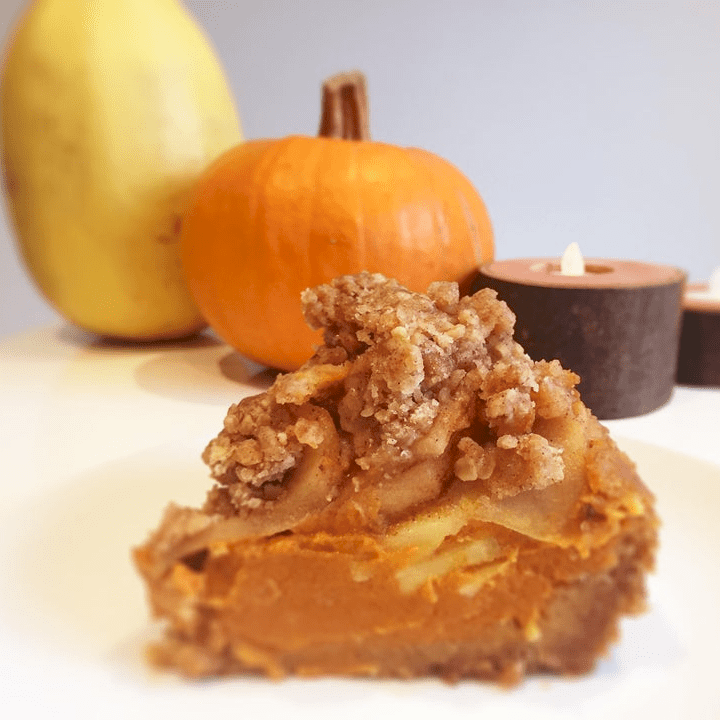 ---
NUTS (WALNUTS, PECANS, ALMONDS, PISTACHIO)
Spruce up your apple pie by making it crunchy and nutty in every bite! All kinds of nuts are particularly delicious but walnuts, pecans, almonds, and pistachio are the best for apple pie. These go hand in hand with apples almost in every baked good because of their texture. So give them a try on your old classic apple pie!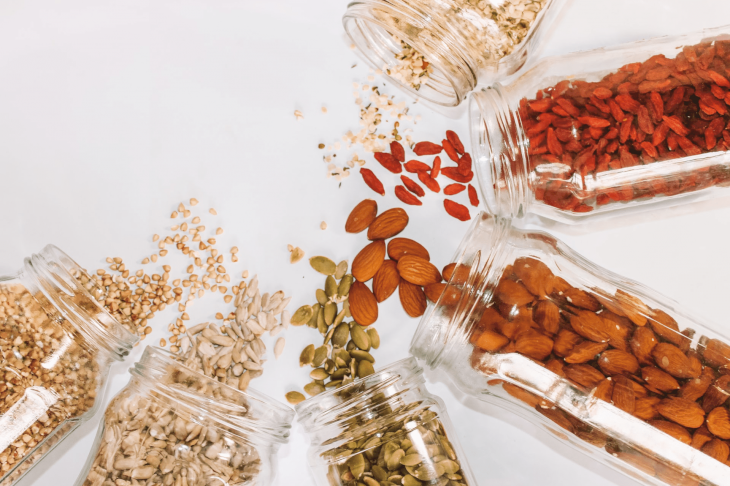 ---
Toast walnuts paired with brown sugar to make a Brown Sugar Walnut Apple pie. Same as for Pecan Apple pie, toast the pecans first to bring out the flavor before sprinkling it to the tops. Almonds are savory when totally bare so chopped them for toppings. Last, grind pistachios for your fillings for your Pistachio Apple Pie.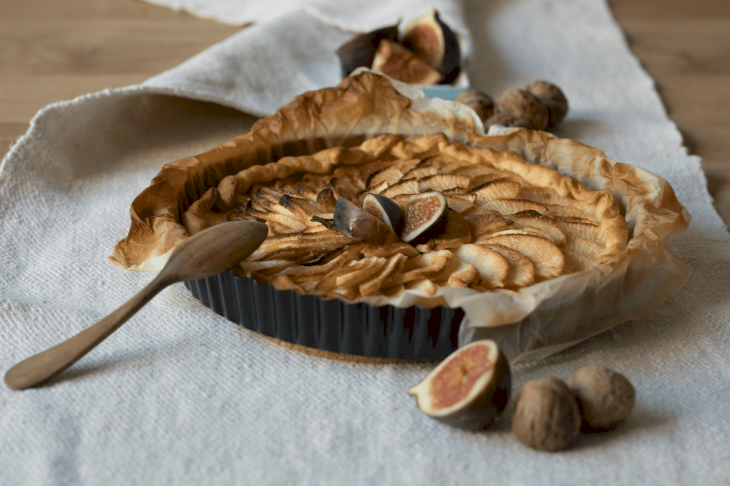 ---
MARZIPAN
Marzipan can be expensive but it's worth it to add a cube or two for your classic apple pie! Though it's often eaten on its own, combining it in your apple pie filling can surprisingly balance the flavor and sweetness! Cut it into cubes then layered into the pie, where it melts together with the apples as it bakes! Yummy!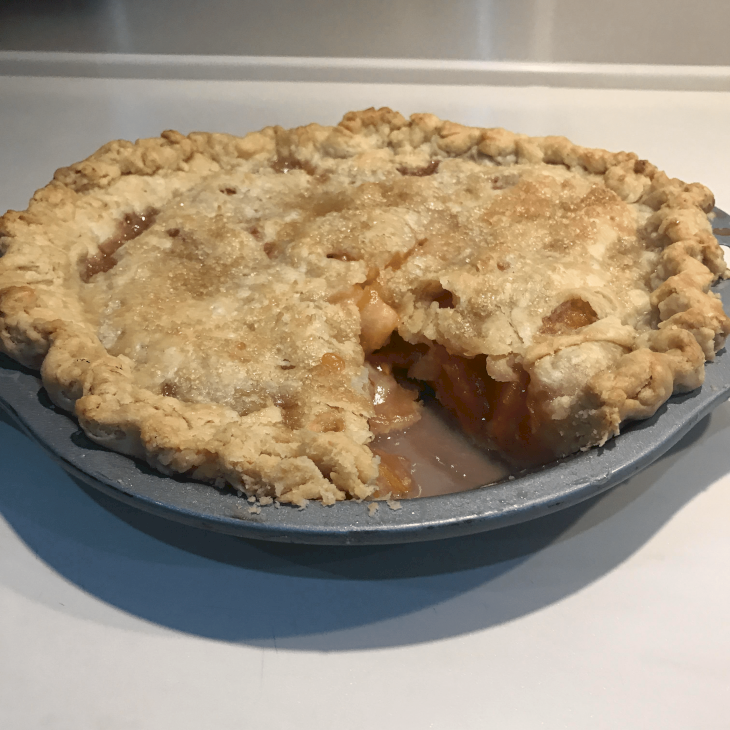 ---
OATMEAL (CRUMBLE)
A real and whole ingredient, oatmeal can be your classic go-to crumble for your apple pie. It is best paired if you have apple-cinnamon for filling. Add it to the top together with other nuts and brown sugar to create an extra dimension to your delicious apple pie.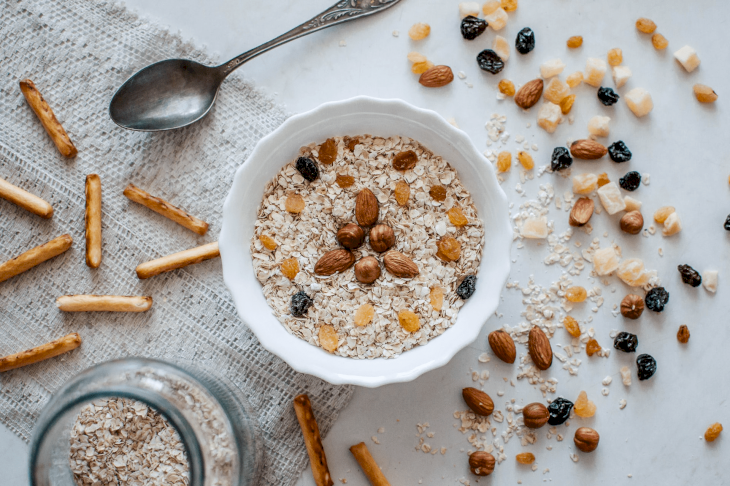 ---
MEAT (BACON, PORK, CHICKEN)
Have you ever tried infusing bacon, pork, or chicken in the traditional apple pie? If you haven't then you're missing out! Even though adding meat might look a bit strange, the taste of these odd combinations actually turns out to be ridiculously amazing! Seriously, just grab any of the meat mentioned and give it a try!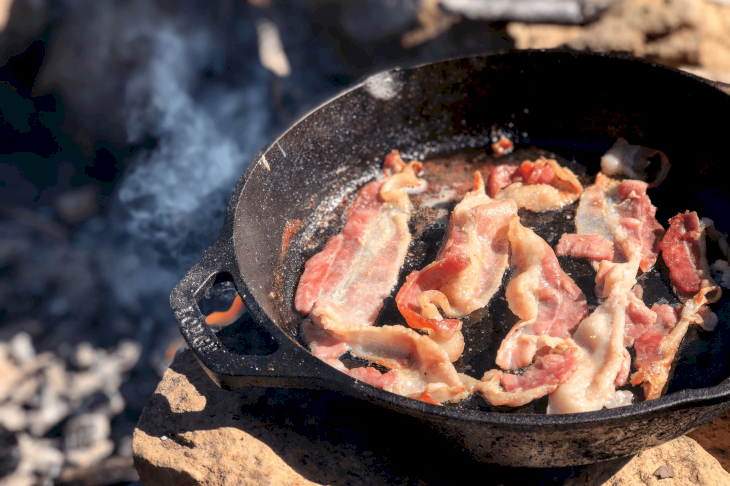 ---
Bacon has salty goodness that gives interesting bursting flavors when paired with apples. A classic flavor-combination of spiced ground pork and apple slices is best paired with cider gravy which really lends an out-of-the-world note. Chicken on the other hand gives a superb sweet and fleshy taste in your apple pie filling.
---
DRINKS (BOURBON, CIDER, CHAI-SPICE)
Looking for something different to combine with your traditional apple pie? Bake it with booze! Grab a bourbon then add it to your glaze mixture of slightly burnt sugar and a bit of water. Another one is the cider which can be perfectly paired with pork, apple, cider pie. And if you wanted a subtle spicy hint, try adding chai-spice.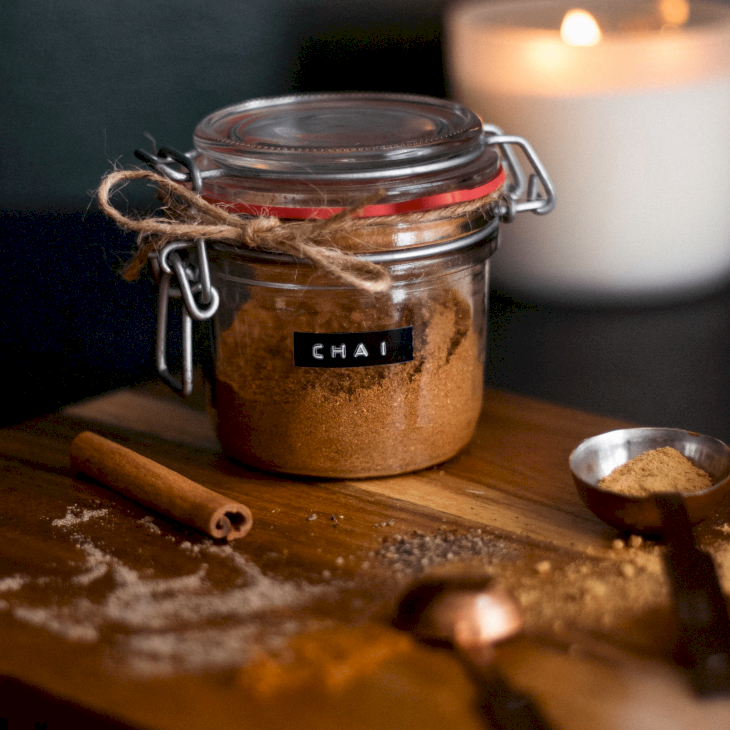 ---
POPPY SEEDS
If you wanted a gluten-free apple pie, then have an Apple and Poppy Seed pie! It is a raw dessert that could surprise your taste buds because of the texture of the poppy seeds which is slightly lumpy to the fruity stewed apple. It is absolutely yummy and seriously simple to prepare! Just let the food processor do the work!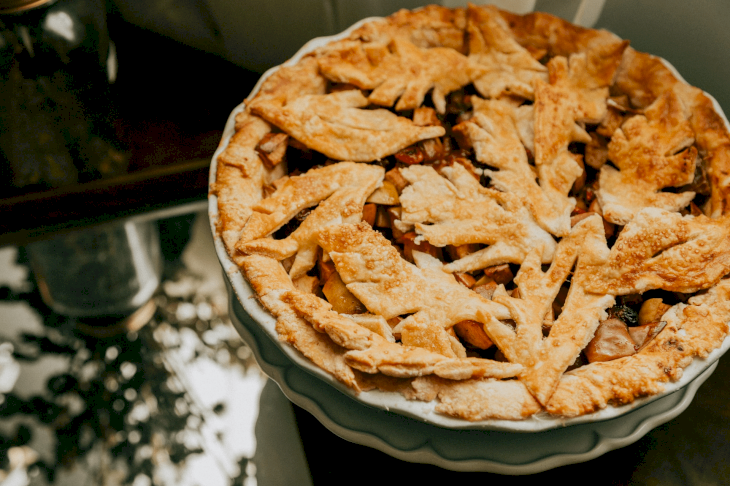 ---
HERBS (ROSEMARY)
Getting tired of the traditional apple pie? Give it a twist with the subtle hint of rosemary! Don't knock it until you try it! There's a reason why rosemary is anyone's all-time favorite herb. It provides savory flavors and a nice aroma to anything. Integrate it on your pie and surely, it will make everybody want some more!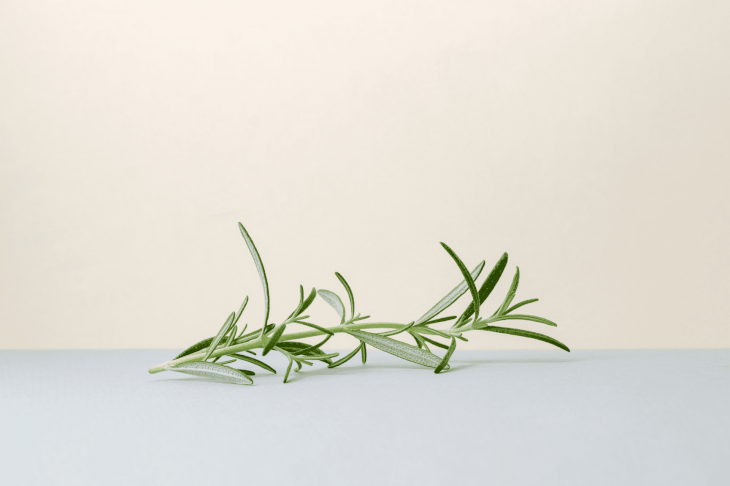 ---
You can add chopped rosemary into your pie crust recipe with just the right amount so as not to overpower the sweetness of apples. You can even toss the apples into rosemary syrup for it to really absorb the flavor and give it an extraordinary taste!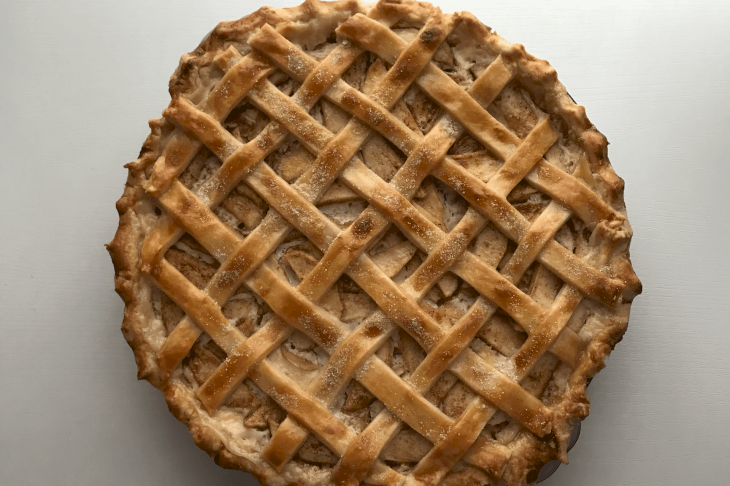 ---
CARAMEL (SALTED CARAMEL)
Your apple pie can never go wrong with caramel! It's a game-changing ingredient that will blow your mind! It is both sweet and salty, giving your pie a superb balance of flavors. You can transform your traditional pie into a Caramel Apple pie that consists of caramel apple filling and a chewy crumble topping. What a melt-in-your-mouth apple pie!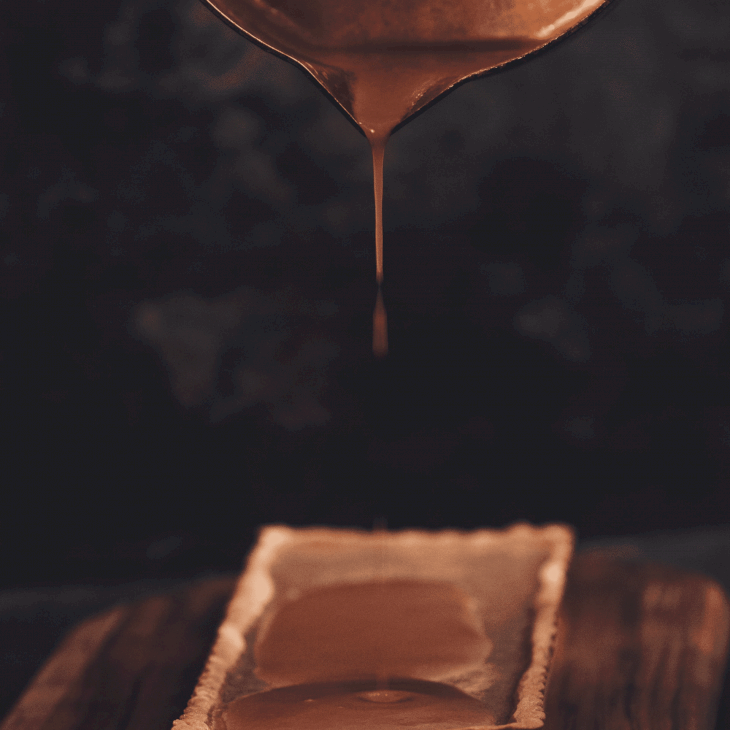 ---
Caramel Apple pie is obviously on the sweet side but if you prefer it with mild sweetness, reduce the sugar in your filling. Also, one thing to remember, after you bake the apple pie, make sure to cool it down before drizzling the caramel sauce to give it a rich and buttery crust. Enjoy!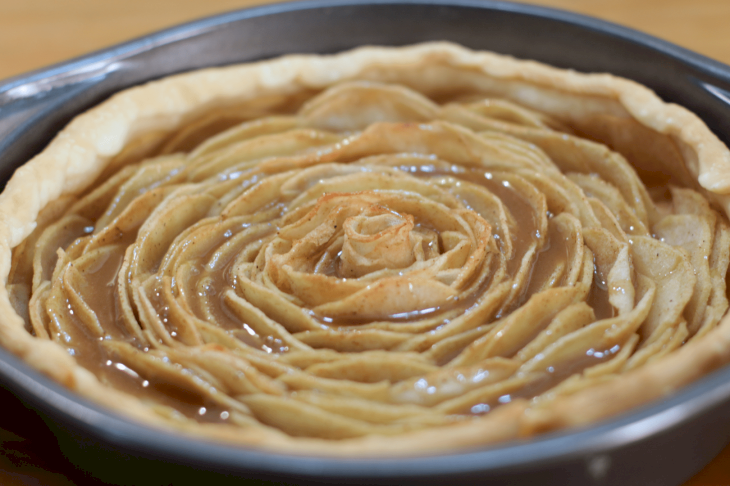 ---
CHOCOLATE
Almost anything can go with chocolate, even apples! So if you love apples and chocolate, you have the best of both worlds with this apple pie filling- melted dark chocolate! Its bitterness balances the sweetness of apples. So glaze your apple slices with hot melted chocolate as a makeover and expect that it will be chocolatey yummy!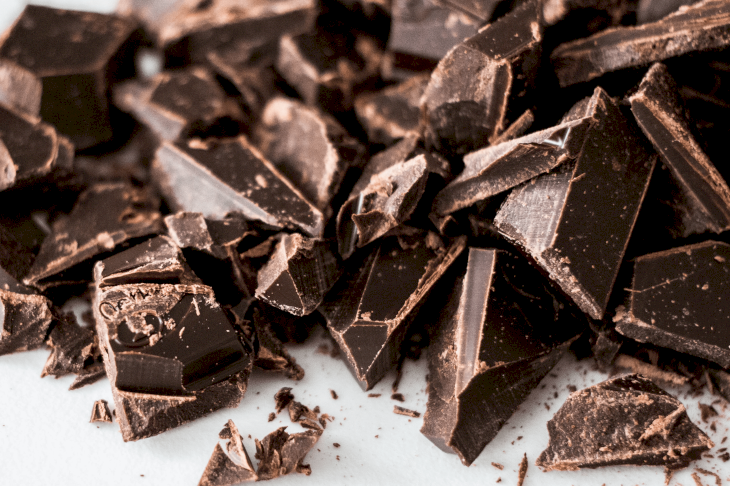 ---
SWEET AND SWEETENERS (MARSHMALLOW, SNICKERS, BUTTERSCOTCH, MAPLE SYRUP, VANILLA SAUCE)
You will definitely have a sweet tooth after learning that your apple pie can never get any sweeter than with your favorite sweets and sweeteners! Whew! That's a lot of sweets! Marshmallow, snickers, butterscotch, maple syrup, and vanilla sauce? Believe it or not, these will be the new sugars for your not-so-typical apple pie!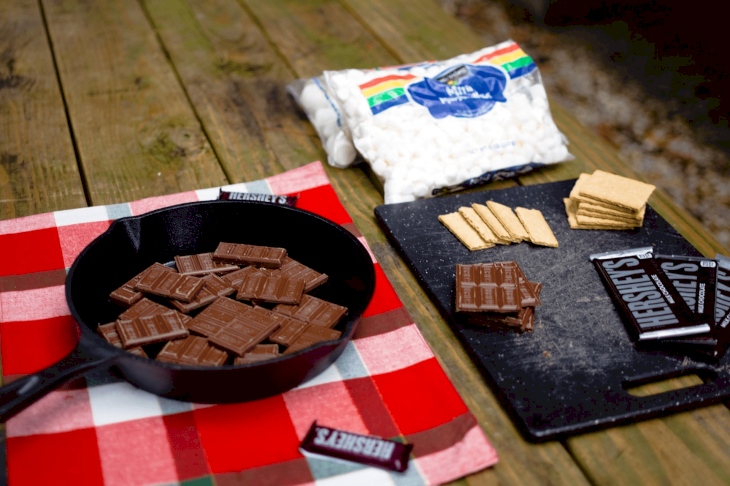 ---
Marshmallow makes every bite a chewy feeling. Snickers can change apple pie into a no-bake dessert. Upside-down apple pie with butterscotch sauce can happen by letting the butter and sugar do its thing in the oven. Maple syrup is a savory drizzle for your Canadian Apple Pie and Vanilla Sauce can make your pie smell aromatic!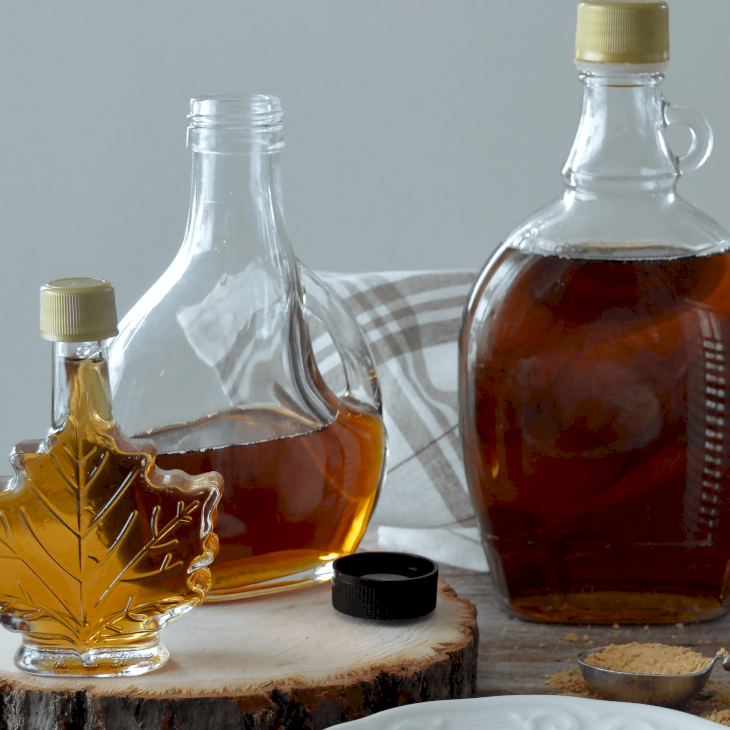 ---
WHICH APPLES ARE BETTER TO USE? (IT'S BETTER TO CONCENTRATE ON THEIR TASTE)
Now that you have an idea about plenty of extraordinary ingredients to refine your classic apple pie, let's move on to the hard part - picking the best in many varieties of apple in your baked goods! Well, each of them has slightly different flavors but some are just not meant to be baked. Here are the five best apples to use: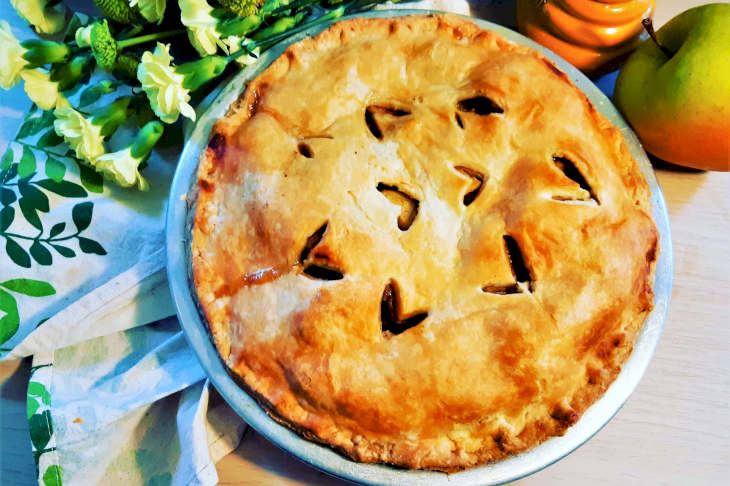 ---
Granny Smith is a tart apple but with more hint of sweetness. Jonathan or Jonagold also has a sharp acid and mildly sweet flavor. Cortland has a good balance of sweet and tart. Braeburn, which is slightly sweeter as part of Granny Smith. Lastly, the Honeycrisp which is crispy and juicy in texture that can be baked amazingly.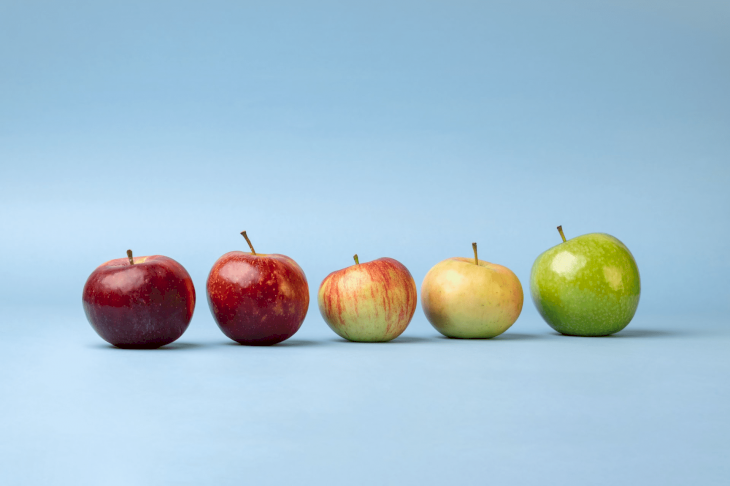 ---
THE SECRETS TO MAKING APPLE PIES
Apple pie can be pretty simple to prepare. All you need to do is make a crust, throw in some apple slices and bake for few minutes then, ta-da! However, if you wanted to level up your skills in baking apple pies, you need to know the secrets to make them and we're here to share it with you!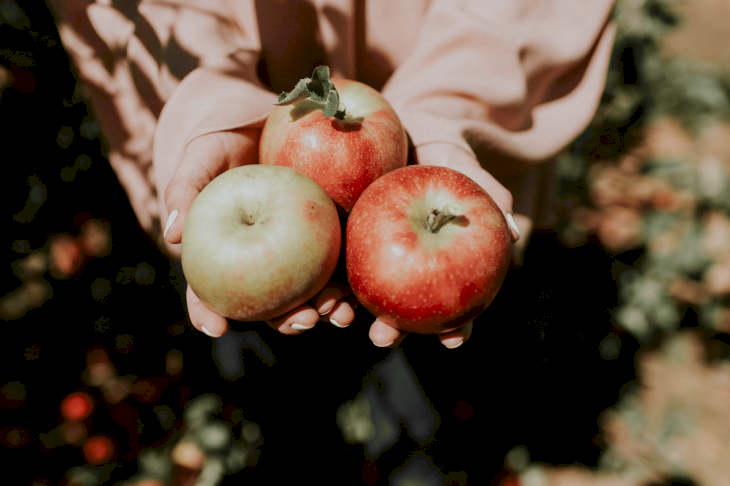 ---
Joanne Gallagher says that the key to a great apple pie is to load it up. "Don't be afraid to pile the apples high in your pie dish. As they bake, they break down and shrink," she says. "Try mixing more than one apple variety in your pie for an interesting mix of textures."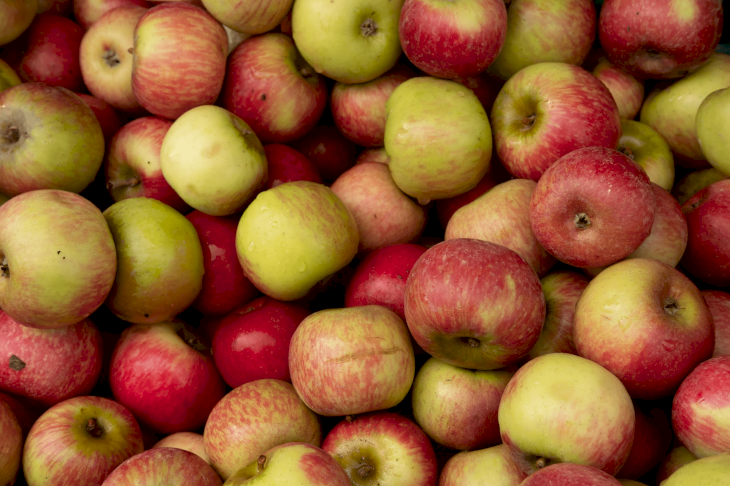 ---
THE SECRETS OF APPLES
Other secrets are tossing apples with sugar, then drain to make them more tender and get rid of the excess liquid, brushing with egg wash the inside of the crush to create a protective layer that keeps the apple's juices from ruining the crust, and layering apple slices, don't dump them to avoid large gaps.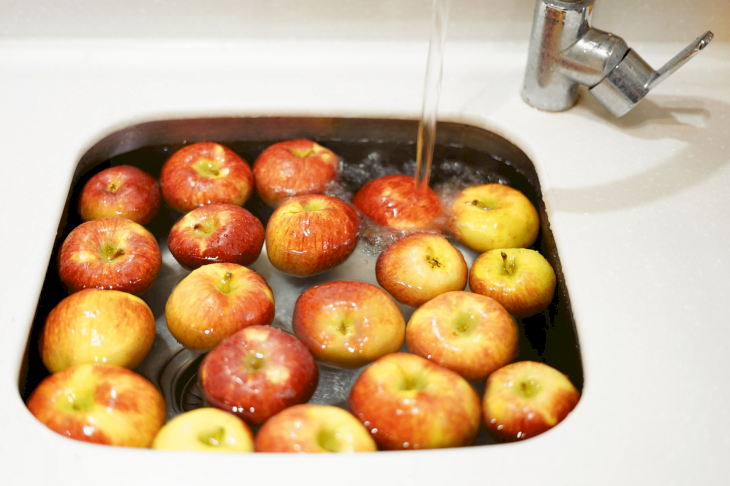 ---
WHAT TO BAKE IF YOU'RE TIRED OF PIES?
Do you love apple pies but really not into the idea of always having it as a dessert at every dinner? We feel you! So if you're still wanting to bake but don't want any more pies, we got you! Try baking Apple Crisp Cheesecake, Apple Tart, Apple Cobbler, Apple Dumplings, Apple Strudel, Apple Galette, and Caramel Apple Cheesecake Icebox cake.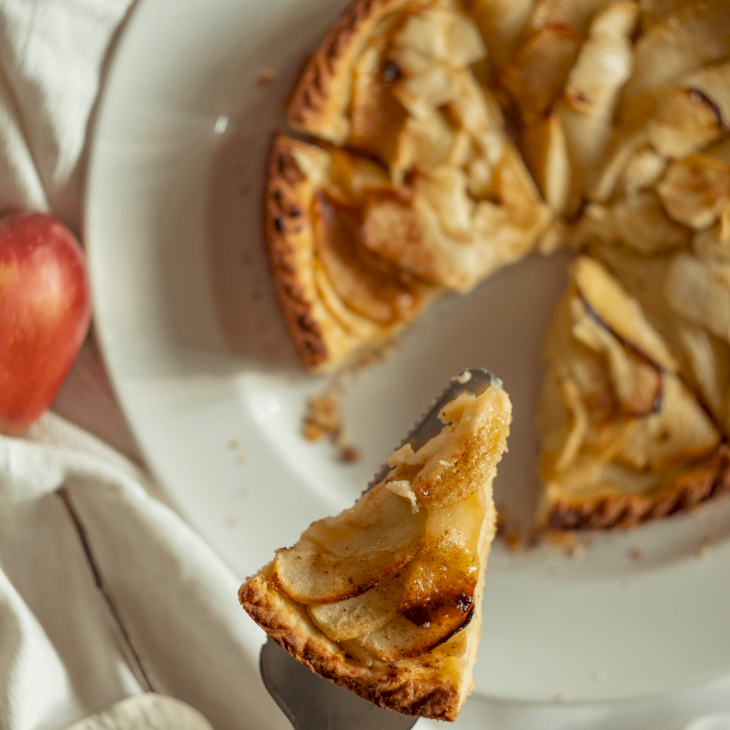 ---
HOW TO PREPARE APPLE DISHES IF YOUR FRIENDS OR FAMILY DON'T LIKE PIES AND BAKING?
Running out of ideas on how to prepare apples other than pies for your family and friends? Say no more because here a list of desserts that most of you will love: Apple Pie Pancakes, Caramel Apple Pie Cocktail, Apple Pie Smoothie, Apple Pie Ice Cream, Apple Pie Latte, Hot Apple Crumble Bars, Apple Pie Donuts, and Apple Pie "Lasagna".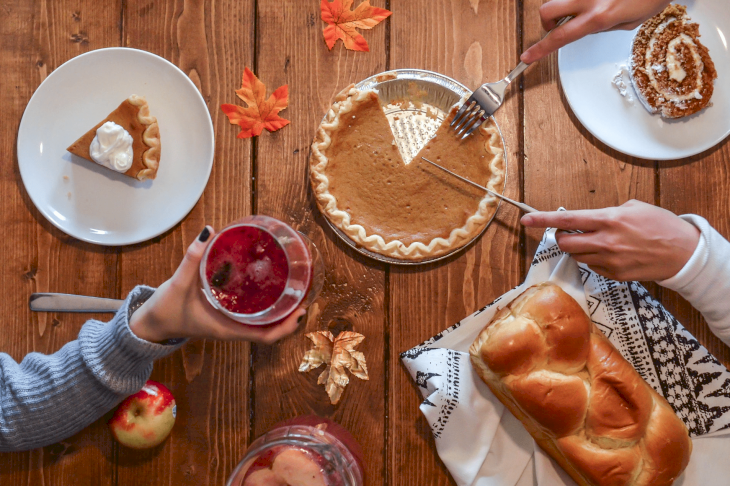 ---
These ingredients and recipes provide a new way for improvisation especially if you lacking one or two ingredients for your desired apple pie. These may have enriched the flavor and gave a new look to the pie but we can't deny that this can ever take the place of a classic apple pie! What do you think? Leave us a comment to share your thoughts!